Service in Riga
Repairs of machinery are performed at the central service centre in Riga, the total area of which is 800 square metres. The total area is divided in 7 repair zones and washing area. Each repair zone has separate entrance gates. All repair zones are equipped with exhaust gases elimination pumps and centralised oil supply device with electronic distribution panel. 2 repair zones are equipped with repair pits. Repair pits are equipped with rapid oil discharge device and pneumatic-hydro mounting jacks with lifting capacity 6 tons. For moving of heavy cargoes and mounting purposes there is mobile crane with lifting power 12.5 tons. Next to repair zones there are areas for tools, repair area for implements, service warehouse and welding zone. For the needs of welding we possess mobile combined welding equipment.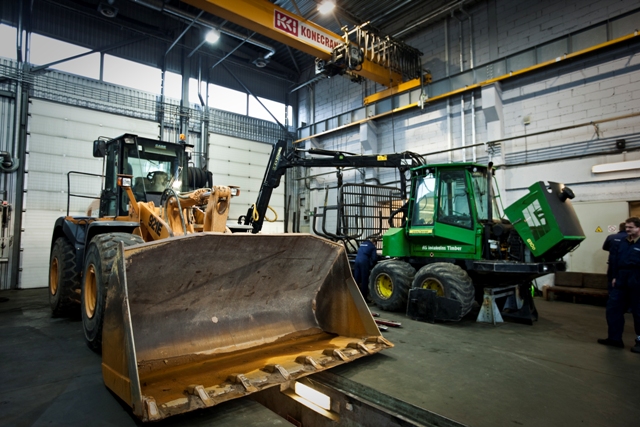 On-site repairs
Several service cars equipped with all the necessary tools and equipment for maintenance, diagnostics and repairs are ready to visit a client in any time and place convenient for the client. Each service employee has a GSM phone. In each of the service cars there is an air compressor and an electricity generator (220 V and welding power), gas welding device and equipment for diagnostics and refuelling of air conditioning systems. For diagnostics and repairs of electric systems during such visiting service our service experts use laptop computers and computers with specific software.
Pre-delivery inspection and regular technical maintenance
Upon each new machine delivered to our customers we perform preparatory works prior to its sale. We check all essential elements of the machine and its technical parameters. Upon clients request we can install any optional equipment (GSM phones, stereo system, refuelling pump, conditioning system, PC, printer, etc.).

INTRAC Latvija service performs all regular maintenance activities upon machines it represents. Servicing takes place at the stationary workshop at 458 Maskavas Street, Riga and also visiting the working site of particular machines or at clients premises. We perform also washing of machines using specially designed washing equipment. Our service ensures supplies of all materials necessary for the maintenance (filters, oils, gaskets, etc.).


Warranty servicing and technical diagnostics
During warranty period of machines INTRAC Latvija service ensures fast warranty repairs. During warranty period all repair works are performed free of charge, if damages were not caused in violation of operation instructions Information about detected damages is forwarded to the manufacturers warranty department for the purpose of making technical improvements based on statistics data. INTRAC Latvija service performs also different reconstruction works of machinery free of charge, if recommended by the manufacturer within their campaigns.

When performing diagnostics, INTRAC Latvija service experts prior to repairs make estimate of repair costs (spare parts and time consumed), which then can be used by our clients in order to evaluate the repair costs and select the most convenient time for the repair works. Such diagnostics can be performed upon clients request as well as during periodic maintenance checks and regular repairs. Diagnostics performed regularly ensure elimination of minor defects and so minimising repair costs for repairs of larger scale.
Used machines` recovery and optional equipment mounting
In co-operation INTRAC Latvija sales managers and repair companies in Latvia and abroad our service offers to customers wide opportunities for recovery of used machines and their implements. By performing evaluation of the machines to be repaired our experts will offer you the most advantageous repair alternative or will recommend a company where such specific tasks are being handled with in adequate quality.

INTRAC Latvija service offers optional equipment mounting services for both new and used machines. We can install air conditioning systems, engine pre-heaters, addittional hydraulic equipments, fuel pumps and diffrent electric units.


Technical consultations
All INTRAC Latvija service customers have a possibility to receive free of charge technical consulting on technical parameters of the machines, their principles of operation, use of oil and lubricants, structure of machine elements and spare parts. Our experts will recommend you the best technical solutions in cases of machine reconstruction and will assist you in selection of the most convenient reconstruction alternative. INTRAC Latvija service has experience in the so-called repairs over the phone when a service expert by consulting the representative of a client helps to solve particular technical problems with minimal costs.


Our technical knowledge and experience is always available to our clients!
Centralized service orders:
Forestry Equipment +371 29404311 (Didzis Osis)
Construction Equipment +371 29163187 (Normunds Dābols)
Material Handling Equipment +371 26673299 (Agris Osis)
Agriculture Equipment + 371 25721264 (Raimonds Dabiņš)

Technical Consultations:
Technical Director +371 28664842 (Andrejs Stoļarovs)
Warranty Specialist +371 29428352 (Mārcis Jusevičs)
Back